Currently listing 680 websites
CTeX
The CTeX project homepage, a portable extension of TeX designed specifically for the professional oriental language typesetting community (content in Chinese).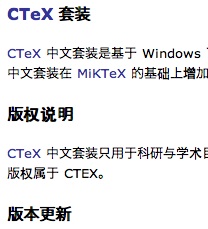 (randomly selected featured website)
WikkaWiki
has been
IndependentWikkaReviews chosen
by hundreds of users, projects, companies and organizations to run their websites. It currently powers websites in
37 languages
, including: Bosnian (
Bosanski
), Catalan (
Català
), Chinese Simplified (简体中文), Chinese Traditional (繁體中文), Croatian (
Hrvatski
), Czech (
Česky
), Danish (
Dansk
), Dutch (
Nederlands
), English, Esperanto, Estonian (
Eesti
), Finnish (
Suomea
), French (
Français
), Galician (
Galego
), German (
Deutsch
), Greek (Ελληνικά), Hebrew (עברית), Hungarian (
Magyarul
), Indonesian (
Bahasa Indonesia
), Italian (
Italiano
), Japanese (日本語), Korean (한국어), Lithuanian (Lietuvių), Malagasy, Norwegian (
Norsk
), Polish (
Polski
), Portuguese (
Português
), Brazilian Portuguese (
Português, Brasil
), Russian (Русский), Slovak (
Slovenská
), Spanish (
Español
), Sundanese (
Basa Sunda
), Swedish (
Svenska
), Thai (ไทย), Turkish (
Türkçe
), Urdu (اردو), Vietnamese (Tiếng Việt).
Below is a
list of Wikka-powered websites
in alphabetical order. Most of them are retrieved from
search engines
or from the
referrer-list
of this server. Many more wikka sites not listed in this page are access-restricted intranets of companies and organizations. Sites marked with a
(c)
have a custom layout; sites with a
(l)
have a localized interface.
Feel free to add your own Wikka site!
A
|
B
|
C
|
D
|
E
|
F
|
G
|
H
|
I
|
J
|
K
|
L
|
M
|
N
|
O
|
P
|
Q
|
R
|
S
|
T
|
U
|
V
|
W
|
X
|
Y
|
Z
|
#
(special fonts may be needed to display these sites)

Sourceforge.net project
BerliOS project

Linux distributions
---
CategoryWikka